Hey Everyone,
I am having so much fun featuring you all. Today I wanted to make a special shout out to my friend
Lexi
I was fortunate enough to be at her house over the weekend making Jewelry and spending time with the other creative friends, you know... the ones that don't necessarily sew... although some of them do... but that is a story for another time. Lexi is an amazing (I know I use that word a lot but it is true) jewelry maker. I love to make jewelry but I am so happy to be lucky enough to have picked up a gorgeous piece from her this weekend. Can you guess which one?
This is just a small portion of her display in her studio but my piece is there. aren't the vintage thimble tassels adorable?
I was going to feature Lexi on the second day of Handmade Holidays but she didn't have anything listed in her shop on etsy so when I saw that she had all of these lovelies I got on her case. Now I am not saying I was single handedly responsible but she did list a lot of her items on etsy including some of her sweet watercolor paintings.
Her shop is
The Shabby Calavera
Personally the piece I am lusting over right now, because I saw it in person and it is gorgeous, is this leather cuff: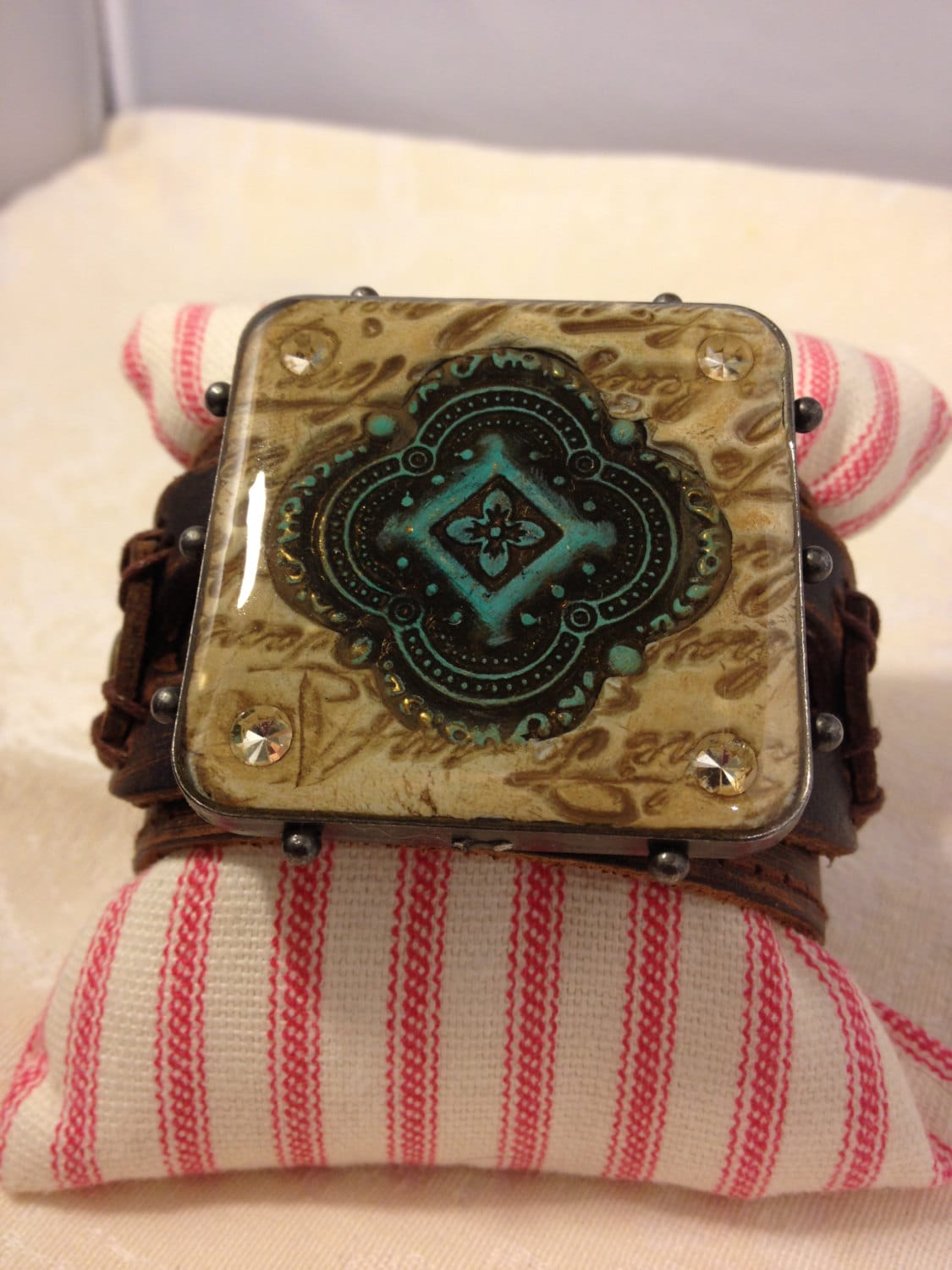 If no one buys it by tonight it might have to come home with me... even though I bought a piece from her over the weekend. Her prices are so reasonable that I have a hard time resisting.
Can I just say Lexi it the Hostess with the Mostest when she hosts classes. We do potluck and by the time it is time to leave she has everyone's dishes washed to take home and all packed up. She is the best!
The class I took at her house was taught by my favorite teacher
Kristen Robinson
who lives in my hometown in Oregon (No, I didn't know her then) her son goes to a school that I helped name. Kinda fun trivial facts. HA! If we are lucky she will come to the shop to teach a class in Spring.
These are the bangle bracelets I made on Saturday (they aren't completely finished):
Then Sunday we were all together again at a larger venue for Kristen's Journal making class. My Journal needs some finishing. I have to add patina to most of the pages because the theme is Victorian Christmas so I have to make the bright colors more antique with some alcohol ink etc... but here is an idea of what it looks like:
This is some vintage silk toile I used on the cover and on the first page is some over dyed silk brocade I have been hoarding.The broach is a vintage piece that I found at an amazing local vintage only flea market a year ago.
Embroidered silk dupioni and a little envelope I made a couple years ago.
My blackboard page
A place to put a picture (my turquoise nails? Go Sharks!)
Some embossed silk and vintage french lace. I have some Victorian Santa charms to put on the charm holder. Normally I don't get into making art journals. I try, but then I run out of ideas. I am really proud of this one.